12,000 litre Truck Water Cart Tank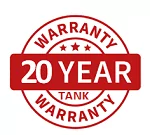 Water Carting & Dust Suppression
Civil & Hire Contractors, Mine Sites & Councils
TTi Floodrite
Truck Water Cart Tank

12,000 Litre Floodrite
FEATURES
12,000 litre water tank capacity.

6.5HP GX200 Honda electric start petrol engine with 3 year warranty.

1000 l/min transfer pump.

3" rear spraying bar with 3 batter head sprayers positioned centre, left and right.

Electric / air semi rotary single acting actuators used to open and close spray function.
3" hydrant filler system complete with galvanised filling funnel and accessible hydrant connection.

Handheld wireless remote controller to easily switch engine and sprayers on and off from inside or outside the trucks cab.

Heavy duty spring retractable multi-purpose wash down hose reel fitted with 25mm x 20m hose and adjustable nozzle.

UV stabilised polyethylene water cartage tank with 20 years warranty moulded in safety green.

Food grade poly material that complies with Australian Standards AS4766:2006.

Liquid locker baffle system for safety, stability and to eliminate surge.

Clear sight level tube with high vis floating ball.

Galvanised steel skid frame with forklift points and lifting lugs.

Sub frame securely pins to the water cartage tank.

Hot dipped galvanised pipework to eliminate the possibility of rust.

6 metre suction fill kit with camlock fittings to quickly fill from dams and waterways.

Rotating safety beacon mounted at rear of unit.

Tare weight: 1680KG - Weight when full: 13,680KG.

Dimensions (mm) : L 4400 x W 2100 x H 2690.

Designed and manufactured in Australia.

Reliable manufacturers warranty and after sales support..
OPTIONS AVAILABLE
Spray bar, consisting of one central 3" and 2 x 1.5" (left and right) magnum type spray heads.

Pressure bar with bette nozzles.

Dribble bar with in-cab remote control.

4.8HP Yanmar diesel electric start engine with 1000 litre per minute pump.

10HP Yanmar diesel electric start engine with 1000 litre per minute pump.

13HP Honda petrol GX390 petrol electric start engine with 1300 litre per minute pump.

Self loading legs.
Designed and manufactured in Australia this impressive truck mounted water cart is widely used by Civil contractors, Council's and Mine Sites throughout Australia. Its versatile and robust design makes it the professionals choice for water cartage, dust suppression, civil earthworks, road construction, washing down and landscaping. The 'slip on' design allows it to be easily mounted in the back of tipper trucks using the loading leg system, or fork lifted onto flat bed and tray trucks. This is a great addition to your onsite fleet and equipment.
DISCLAIMER: Unit dimensions and weight may vary slightly due to the manufacturing process. Quoted pump flow rates are open flow. Flow rates in real world applications will vary. Units weight will increase if optional extras are added.
Please Note: Yanmar diesel engine, loading legs, dribble bar and magnum deflector sprayers shown in images are optional upgrades which can be added to this water delivery unit and do not come standard. 12 volt power supply is required to operate deflector sprayers and dribble bar with in-cab remote control.
12,000 litre Truck Water Cart Tank.
TTi Floodrite.
Additional information
| | |
| --- | --- |
| Weight | 1680 kg |
| Dimensions | 440 × 210 × 269 cm |
| Litre | 12000 |