Fire Fighting Units and Trailers
FIRE FIGHTING – TREE WATERING – WASHING DOWN – WATER TRANSPORTING PROPERTY PROTECTION – BURNING OFF – BACK BURNING – DUST SUPPRESSION
 FASTFLO FIRE FIGHTER KNAPSACKS
16 Litre Fire Knapsack  

Sale Price

 

–

 

$297


16 Litre Fire Knapsack & Vehicle Mounting Frame

Sale Price – $477
● Extra Tough. ● Easy Carry Handle. ● High quality Double action pump for ease of operation. ● Adjustable nozzle for varying conditions. ● Unique pump grip and handle reduces operator fatigue. ● Robust tank designed for reliability. ● Filter in lid to keep debris out of tank. ● AS1687 Compliant. ● Continual water jet achieved from double action hand pump. ● Light weight and compact.
CLICK HERE
FOR MORE INFO & TO PURCHASE ON-LINE
●●●
RAPID FIRE MARSHAL PLUS+
250 Litre – 910(L) x 730(W) x 670(H)mm  Sale Price – $2295
400 Litre – 1480(L) x 730(W) x 670(H)mm  

Sale Price – $2595
● New Design, Tough UV Stabilised Poly Tank.  ● Easy-Move Integrated Handles.  ● Ideal Fit For UTV's. ● 36 Metres of Fire Fighter Hose, Adjustable Fire Nozzle.  ● Compact Quick Response Fire Fighting Unit. ● Add The Rapid Fire Hose Reel For $605.
CLICK HERE
FOR MORE INFO & TO PURCHASE ON-LINE
●●● 
TTI Fire Fighter Units
220L & 400L
●Tough UV Stabilised Poly Tanks.  ●Australian Made & 15 Year Tank Warranty.  ● Genuine Honda Motor. ● Australian Rated Fire Hose & Adjustable Fire Fighter Nozzle.  ●Full Manufacturers Warranty.
CLICK HERE
FOR MORE INFO & TO PURCHASE ON-LINE
●●●
ULTIMATE FIRE RANGER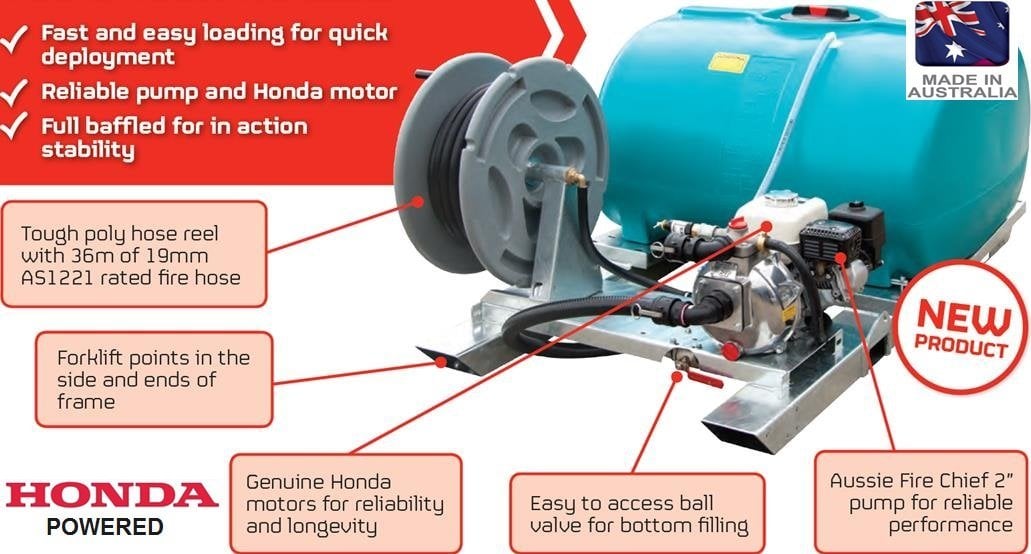 400 Litre – 1950(L) x 1150(W) x 650(H)mm  Sale Price – $5393
600 Litre – 1950(L) x 1150(W) x 890(H)mm  

Sale Price – $5643


800 Litre – 1950(L) x 1360(W) x 700(H)mm  Sale Price – $5875
1000 Litre – 1950(L) x 1360(W) x 1045(H)mm  Sale Price – $5998

● Heavy Duty Galvanised Steel Frame.  ● Tough UV Stabilised Poly Tank.  ● Reliable Honda GX160 Motor. ● 2″ Aussie Pump Fire Fighting Pump With Pressure Regulator.  ● Bottom Fill Kit With Camlock Fittings. ● 36 Metre Fire Fighting Hose Reel & Adjustable Fire Nozzle.  ● Fully Customiseable.  ● Australian Made.
CLICK HERE
FOR MORE INFO & TO PURCHASE ON-LINE
●●●
FIRE RANGER UNITS



 400 Litre – 1570(L) x 900(W) x 1000(H)mm  Sale Price – $4779
600 Litre – 1570(L) x 1250(W) x 1000(H)mm  

Sale Price – $5079


1500 Litre – 2150(L) x 1700(W) x 1100(H)mm  Sale Price – $6491
2000 Litre – 2910(L) x 2000(W) x 1050(H)mm  Sale Price – $8312
2500 Litre – 2800(L) x 2000(W) x 1250(H)mm  

Sale Price – $8595
● Heavy Duty Galvanised Steel Frame.  ● Tough UV Stabilised Poly Tank.  ● Reliable Honda GX160 Motor. ● 2″ Aussie Pump Fire Fighting Pump With Pressure Regulator.  ● Bottom Fill Kit With Camlock Fittings. ● 36 Metre Fire Fighting Hose Reel & Adjustable Fire Nozzle.  ● Fully Customiseable.  ● Australian Made.
CLICK HERE
FOR MORE INFO & TO PURCHASE ON-LINE
 ●●●
RAPID FIRE MARSHAL TRAILER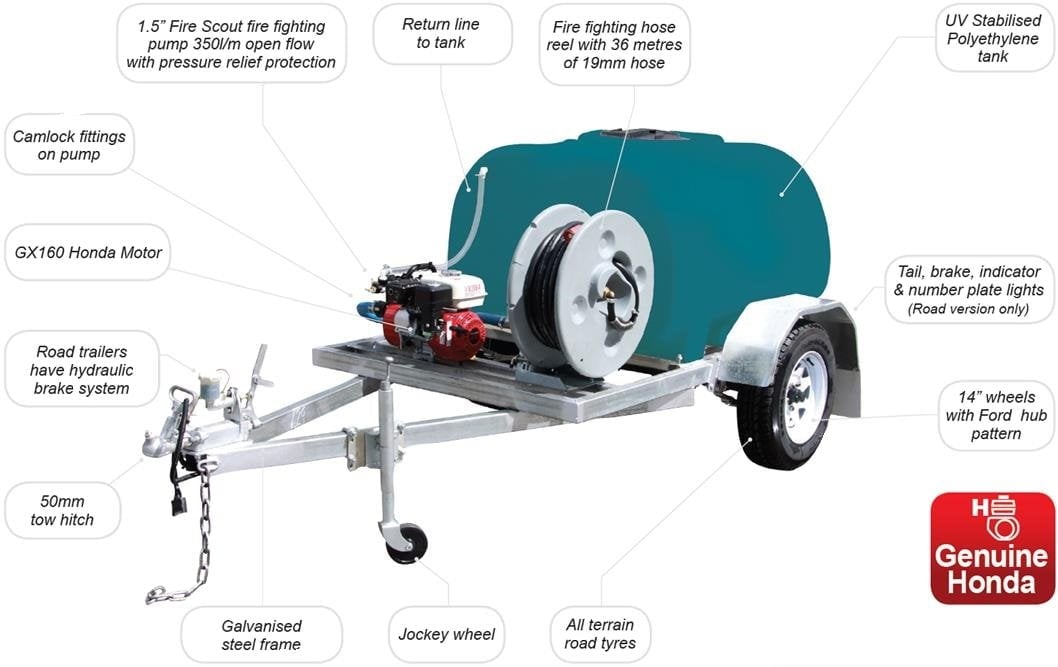 1000 Litre – Farm / Off Road Use   Sale Price – $7179
1000 Litre – On Road Use – Road Registerable  

Sale Price – $8995

 
CLICK HERE
For More Info & To Purchase On-Line
●●●
FIRE RANGER TRAILERS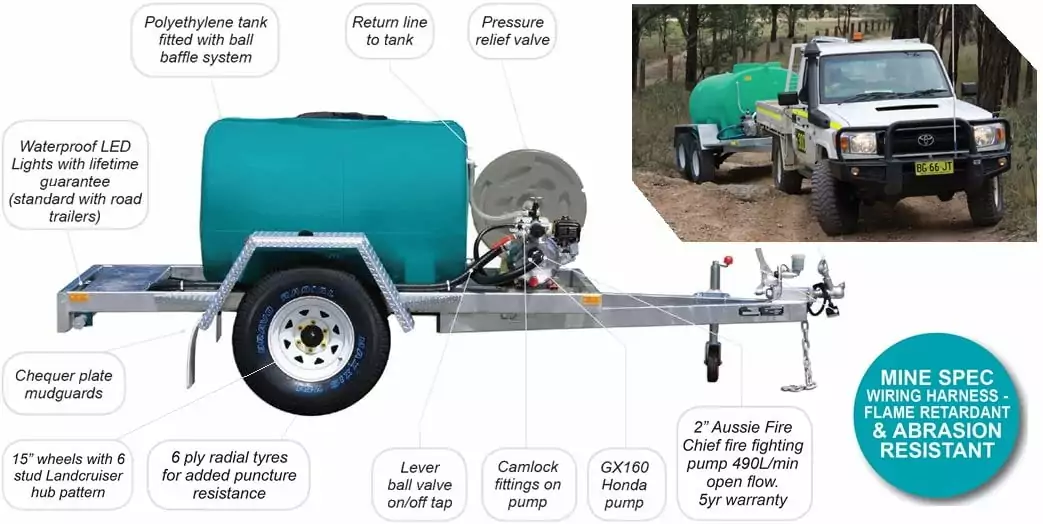 1000 To 3000L Trailers
Contact Us For Pricing
● Heavy Duty Galvanised Steel Chassis.  ● Strong UV Stabilised Poly Tank.  ● 10 Year Tank Warranty. ● Excellent Ground Clearance.  ● All-Terrain Road Tyres.  ● Ball Baffle System Fitted. ● Reliable Honda GX160 Motor. ● 2″ Fire Fighting Pump,  Camlock Fittings & Pressure Regulator. ROAD TRAILERS ARE FITTED WITH BRAKES & LIGHTS. AND ARE READY FOR REGISTRATION.
CLICK HERE FOR MORE INFO
●●●
FIRE PROTECTION SKID UNITS
 Honda Motor, 1.5″ Fire Fighting Pump, 36M Hose   Sale Price – $2995
Honda Motor, 2″ Fire Fighting Pump, 36M Hose Reel  

Sale Price – $3962
● Heavy Duty Steel Frames with Lifting Points.  ● Reliable Honda Motors.  ● Powerful Fire Fighter Pump. ● Suction Hose Kit For Drawing From Multiple Water Sources Including; Tanks, Pools, troughs & Dams. ● High Quality Fire Fighting Hose.  ● Adjustable Fire Fighter Nozzle. ● Quick Deployment.
CLICK HERE
FOR MORE INFO & TO PURCHASE ON-LINE
●●●
FIRE FIGHTING HOSE KITS
● Woven Canvas.  ● High Pressure 3500 kpa.  ●  Can Be Stored Wet.  ●  Adjustable Fire Fighter Nozzle.
Excalibur Fire Hose Kit  CLICK HERE To Purchase On-Line
●●●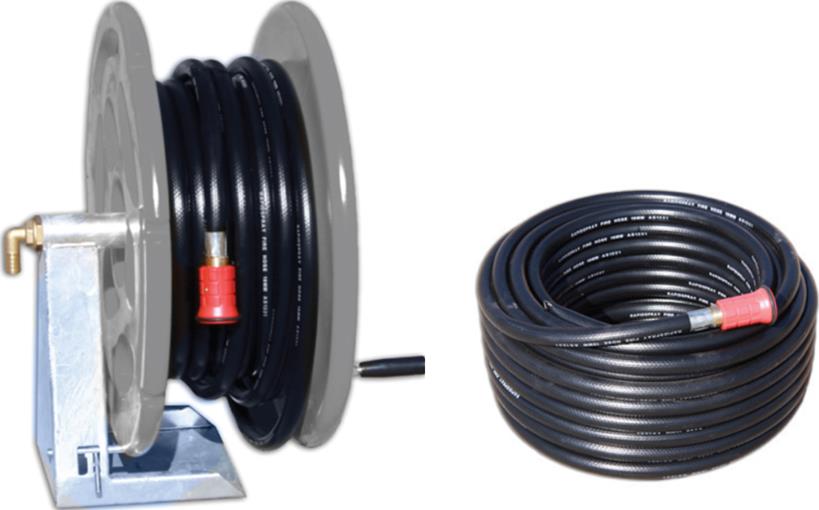 19mm x 36 Metres Of Fire Hose, Adjustable Nozzle  Sale Price – $224

19mm x 36 Metres Fire Hose Reel, Adjustable Nozzle
Sale Price – $805
●●●
HONDA FIRE FIGHTING PUMP KITS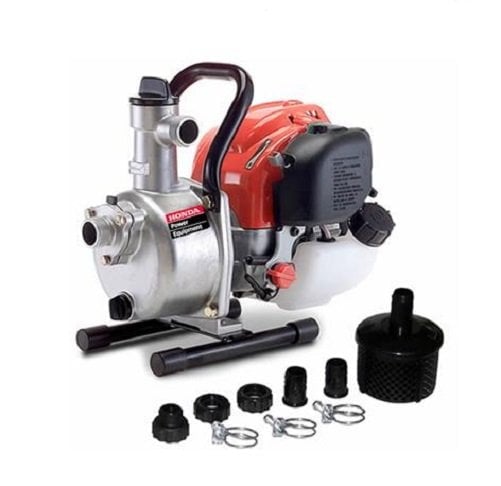 Honda GX35 – 1″ Fire Pump – Suction Kit –   

Sale Price – $893
● Reliable Honda GX Motors.  ● High Performance Pumps.  ● Quality Fire Hose.  ●  Suction Hose Kits.
CLICK HERE
FOR MORE INFO & TO PURCHASE ON-LINE
Check Out Our Rapid Spray® & Trans Tank International®  Season Sales. Click Here!
– FREE DELIVERY is available on many of our Rapid Spray fire fighting units, to many locations. Click Here or contact us to find out if you are eligible for free delivery.
– Sales Inquires; Tel- 0497 051 143 . Between the hours of 08.30 am – 8.00 pm Mon to Fri, 8.30 am – 5 pm Sat & Sun.
– Or contact us using the form below.
The Bushfire Store's fire fighting units and fire trailers are Australian made and built for ultimate reliability.
The full Rapid Spray range of Fire Fighting Units and Fire Fighter Trailers have been tried and tested by the Bushfire Store. At the Bushfire Store we only sell the best quality fire fighting units and fire fighting trailers. All of our fire fighting units can be customised. Please contact us for more details.
Customer Reviews: Toughest fire fighting tanks. Very reliable fire fighter tank. Great fire fighting skids for farm fire protection. Portable fire fighter units fit great in the trailer. Australia's best fire fighting units.
Fastflo Fire Knapsack. – Rapid Fire Marshal Plus. – Rapid Fire Marshal. – Fire Ranger. – Fire Marshal ATV Trailer. – Fire Marshal Trailer – Fire Ranher Trailer. – Fire Response Unit. – Home Protection Unit. – Fire Reels. – Fire Pump Kit.
DISCLAIMER: Images are indicative only. Quoted pump flow rates are open flow. Flow rates in real world applications will vary. Tank dimensions and colour may vary slightly due to manufacturing process.