The Bushfire Store has sprayer hose reels suitable for many applications by the home gardener, hobby farmer or professional sprayer.  Our hoses and reels are made with the highest quality components for hassle free precision spraying. Spray hoses can be used with fertilisers, pesticides, herbicides, fungicides and other chemicals. Whatever your need we have low pressure hose reels for the hobby farmer to commerical auto rewind 12 volt hose reels.
Our range of poly spray hose reels offer many benefits over steel with rust free and vibration resistant performance. Heavy duty UV stabilised poly spool boasts a 15 year warranty.
Australian made.

Poly spool with 15 year spool warranty.

Galvanised steel mounting frame.

Reel lock to prevent hose from unwinding in transit.

Brass & stainless steel components.

10mm id heavy duty chemical spray hose.
Working pressure: 580PSI. Burst pressure 1200PSI.

The all new Buddy reel is your smart tangle proof solution to spraying the most stubborn weeds in the trickiest of places. Featuring a four roller hose guide for smooth free running hose, a auto rewind remote with 2km radius and an impressive three year warranty.
Australian made.

12 Volt, 15 – 25 Amp power source required.

Hand held, 2 speed rewind remote.

Hard powder coated steel construction.

Specially designed reliable electric motor.

Full manufacturers warranty

10mm id heavy duty chemical spray hose.

Burst pressure 1000PSI.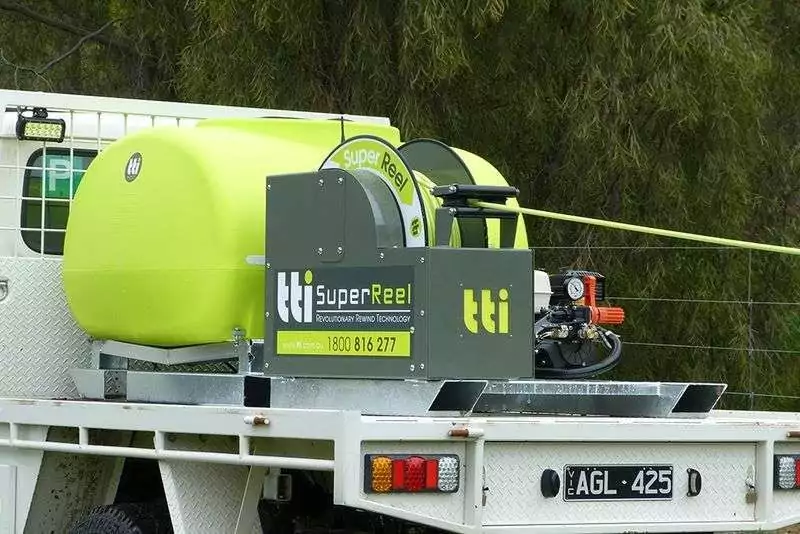 TTi SuperReel – Designed to perform in the toughest terrain, the remote controlled SuperReel spray reels are guaranteed to make the job quick, easy and safe for any operator.
NEW fully enclosed frame design minimises pinch points.

Nylon bearing housing with stainless bearing eliminates chances of rust.

Stainless steel shaft.

Powerful 120W electric motor with auto overload cut-off.

Single channel wireless remote transmits up to 200m in uneven terrain!

Unique "Transport mode" braking technology.

Manual override button and isolation switch.

Australian made by TTi.